MELT YOUR FAT RAPIDLY WITH CHAOS!
HARDCORE FAT BURNER†
There are cheap caffeine pills with under-dosed ingredients calling themselves fat burners and then there is Chaos. This ultra-potent formula was not designed to fit in one capsule because it contains powerful ingredients in their correct doses. After the first serving of Chaos you'll understand why it's becoming one of the most popular fat-burners on the market today.†

JUST THE FACTS ABOUT CHAOS V4
Increases resting and active metabolic rate.†
Sharpens focus and supports energy levels.†
Destroys appetite and fat.†
Zero fillers.†
100% Transparent Label

CHAOS FAT BURNING AMPLIFIED IS BACK AND BETTER THAN EVER!
Chaos was unleashed on the supplement industry just a few short years ago, and in that time it has quickly taken its place among the upper echelon of weight loss aids on the market.

CARDIO SESSIONS WERE CRUSHED.
CALORIES AND FAT WERE INCINERATED.
AND HUNGER WAS OBLITERATED.
In keeping with our commitment to always bring the best possible products to market, we're releasing a new version of Chaos, and that may lead many of you wonder:

Why formulate a new version of something that was already a homerun?
What's the difference between the old version and the new version?
Did you pull the old bait-and-switch where you secretly change the label and charge the customer more while "altering" (i.e. watering down) the formula?
To that last point, we'll give a resounding "HELL NO!"

As for the other questions, that's what this article is for -- to walk you through the ins and outs of the brand new CHAOS!


UPGRADED ENERGY
The previous version of Chaos had a strong 300mg of caffeine anhydrous to help eliminate the fatigue and brain fog that is so common with dieting. We've kept the overall caffeine content the same in the new CHAOS (300mg), but we've split it between 200mg caffeine anhhydours and 200mg caffeine citrate, which yields 100mg caffeine.

Caffeine citrate, anecdotally, hits harder and faster, giving the new CHAOS faster onset of effect to help you get after it no matter if you're training at 4AM after a crappy night's rest or struggling to bang out yet another cardio session on your way to getting shredded.

We've also included both 100mg Cocoabuterol for increased aggression, energy, and motivation.


ENHANCED WEIGHT LOSS
There have been quite a few upgrades to the new version of CHAOS, beginning with an ingredient with which many of you (and the rest of the supplement industry) are not familiar -- Oleoylethanolamide (OEA).

OEA is derived from monounsaturated fatty acid (oleic acid), which has beneficial effects on body composition and regional fat distribution. It has high affinity for proliferator-activated receptor alpha (PPAR-α) that plays important physiological and metabolic actions. More specifically, OEA is noted to improve satiation or meal termination (i.e. help prevent overeating at mealtime) through PPAR-α activation. Additionally, OEA stimulates fatty acid uptake, lipolysis, and beta-oxidation ("fat burning). Studies also suggest that OEA may exert satiety-inducing effects by activating the hedonic dopamine pathways and increasing homeostatic oxytocin and brain histamine.[1]

Another standout addition to the new CHOAS is an ingredient we briefly touched on above -- Cocoabuterol.

Cocoabuterol is a highly concentrated extract of Theobroma cacao containing the most bioactive alkaloids and polyphenols, including N-coumaroyldopamine, N-caffeoyldopamine, EGCG, and Theobromine. These natural alkaloids can act as potent beta-adrenoceptor agonists to support fat burning, improve insulin sensitivity, and reduce protein breakdown.

Olive Leaf Extract is another well-known weight loss supplement that can be found in the new version of CHAOS.

Olive leaf extract is a rich source of polyphenols and is known to offer several health benefits and may be useful in combating numerous lifestyle-induced conditions. Oleuropein is the most notable polyphenol found in olive leaves with studies noting that supplementation with oleuropein (and olive leaf extract) may reduce body weight and weight gain. Additional animal studies also indicate that olive leaf extract may help reduce visceral fat accumulation and improve serum lipid composition.[2]

In addition to adding new ingredients to CHAOS, we've also increased the dosages of select ingredients from the previous iteration, including an additional 200mg dandelion root (bringing the new total to 500mg dandelion root) as well as an additional 10mg GBB (bringing the total GBB content to 40mg).

Familiar faces returning in the new version of CHAOS include:

750mg Green Tea Extract
225mg Paradoxine
125mg InnoSlim
50mg CapsiMax

TAKEAWAY
Change is inevitable, not only in the supplement industry, but life as well. And, while many of us are hesitant for change (especially when it comes to our favorite supplements), trust us when we say that the new CHAOS is everything the old version was and then some!

Greater energy, enhanced fat burning, increased calorie burning, and less hunger.

Dieting sucks, we get it. But, it doesn't have to.

Take one serving and be ready to unleash CHAOS on stubborn fat!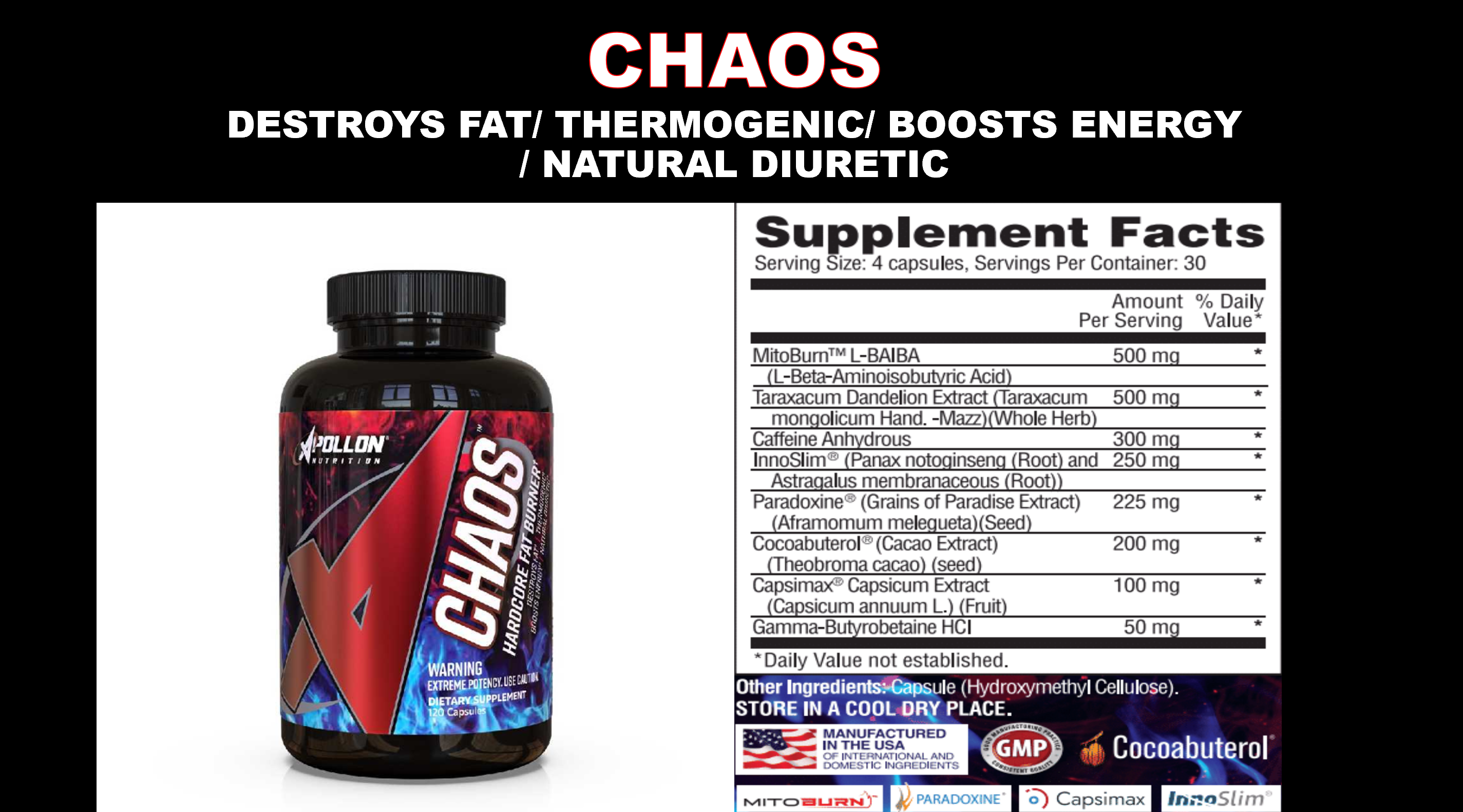 REFERENCES
Tutunchi H, Saghafi-Asl M, Ostadrahimi A. A systematic review of the effects of oleoylethanolamide, a high-affinity endogenous ligand of PPAR-α, on the management and prevention of obesity. Clin Exp Pharmacol Physiol. 2020 Apr;47(4):543-552. doi: 10.1111/1440-1681.13238. Epub 2020 Jan 31. PMID: 31868943.
Jung YC, Kim HW, Min BK, et al. Inhibitory Effect of Olive Leaf Extract on Obesity in High-fat Diet-induced Mice. In Vivo. 2019;33(3):707-715. doi:10.21873/invivo.1152