Product Details
Brand: Apollon Nutrition
Goal: Improve Workout
Main Ingredient: Highly Branched Cyclic Dextrin (as Cluster Dextrin®) - 30g
Form: Powder
Servings Per Container: 40 / 20
Serving Size: 1 Scoop (37.5 g), 2 Scoops (approx. 75 g)
Full Spectrum Intra-Workout
With Fast-Acting Carbohydrates, EAAs, BCAAs, Creatine, & Electrolytes
You've heard it time and time again — nutrition is key to performance, recovery, and growth...
...and they're right: The proper application of targeted nutrients around your workout can greatly enhance:
Power output
Stamina
Focus
Fatigue resistance
Hydration
Recovery
OVER THE TOP is the ultimate training fuel for athletes looking to wreck the weights, smash PRs, crush the competition, and still have the gumption to go toe-to-to with Lincoln Hawk.
We've brought together an advanced blend of essential amino acids, premium carbohydrates, and research-backed ergogenics to help you train harder, last longer, recover faster, and take your performance over the top!
OVER THE TOP's key ingredients have been shown in research to have a range of positive effects, including, but not limited to:
Greater endurance & stamina
Increased muscle force contractility
Decreased onset of fatigue
Improved maximal oxygen uptake capacity
Decreased delayed onset muscle soreness
Greater energy & ATP production
Increased power & strength
Now, let's make something clear.
If you like to insta-tweet, twerk, or create the perfect "inspirational" post for your 36 followers between sets, then OVER THE TOP is NOT for you.
If your idea of "training" is walking on the treadmill for 30 minutes while FaceTiming your "boo," then OVER THE TOP is NOT for you.
If you're the sadistic MotherF***** that lives to push your mind and body to the limit each and every time you enter the gym, OVER THE TOP is FOR YOU!
Every serving of OVER THE TOP includes:
40 grams of fast-digesting carbohydrates—including Cluster Dextrin® highly branched cyclic dextrin and D-Ribose—to enhance energy production and athletic performance
17+ grams of amino acids (including 10g of BCAAs) to fuel muscle recovery, growth, and hydration
5 grams of creatine monohydrate
5 grams betaine anhydrous
2 grams PeakO2®
300mg elevATP®
100mg Senactiv®
Apollon's also included all the essential electrolytes the body commands for optimal performance in and out of the gym.
Collectively, OVER THE TOP is the ultimate training fuel for serious athletes whether you're going to tackle grueling MMA workouts, CrossFit WODs, or intense leg days when ya gotta dig deep. Let OVER THE TOP fuel your most demanding training sessions.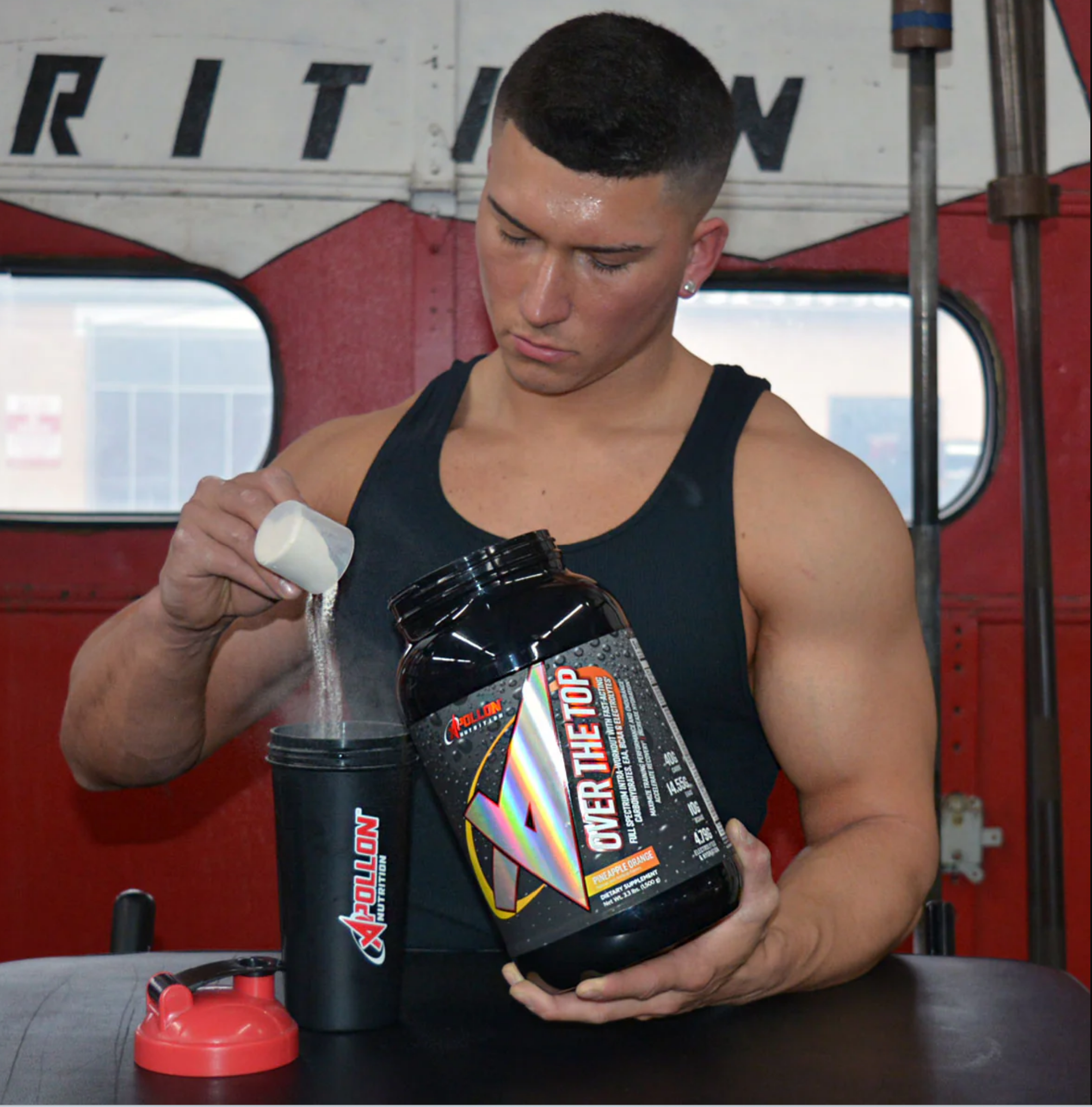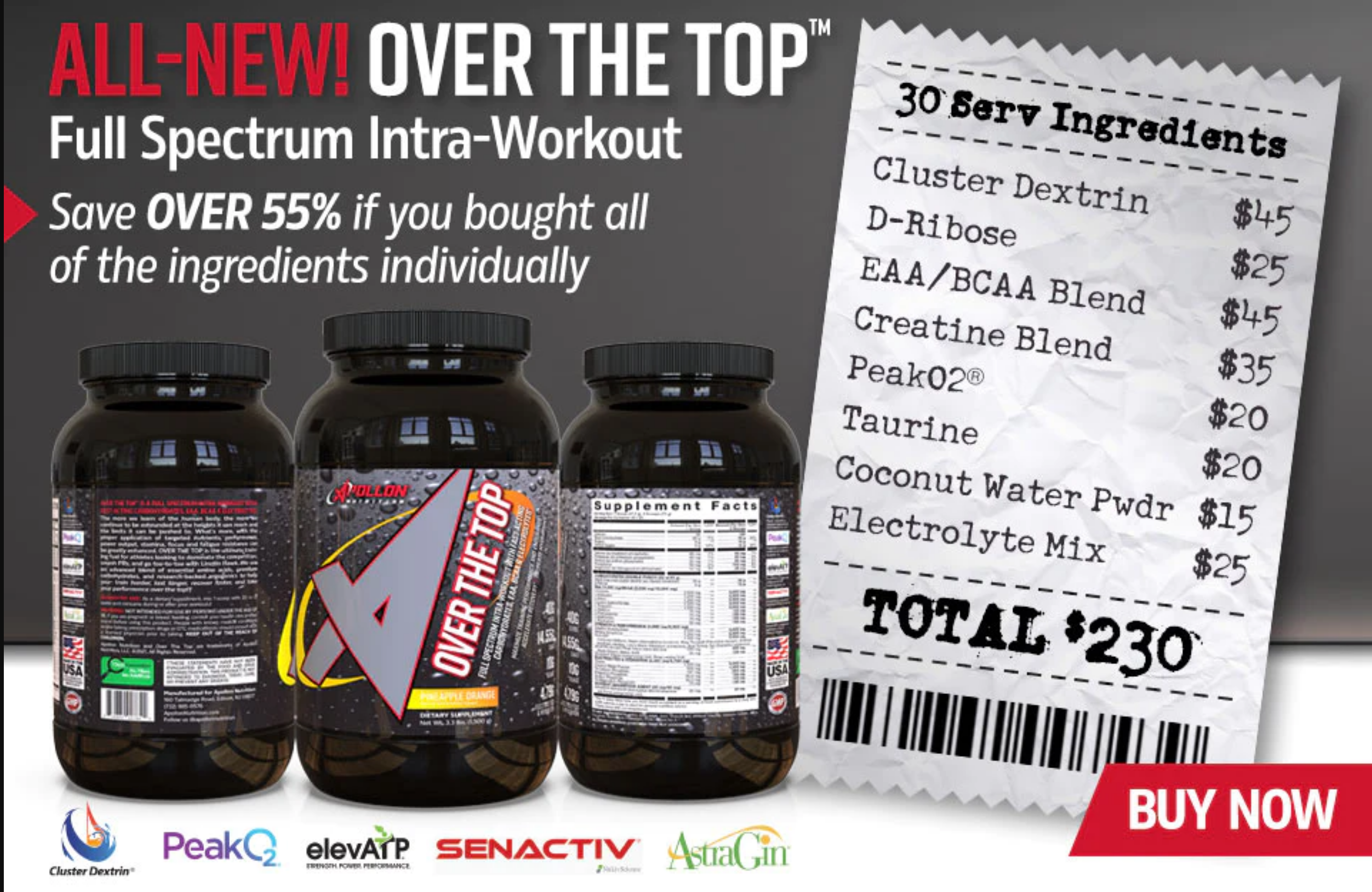 OVER THE TOP– THE REAL ATHLETE'S FULL SPECTRUM INTRA-WORKOUT
You've heard it enough times that if you really want to get results from your training program, then you have to take your nutrition seriously. And, while you might think you've got your diet optimized with just the right amount of protein, carbs, and fats, the vast majority of gym rats overlook (or flat out neglect) peri-workout nutrition.
That's a real shame, too, because consuming the right nutrients in the right quantities at the right time can greatly enhance performance, recovery, and ultimately results.
And, no…we're not talking about those pathetic 5 grams of BCAAs and pixie-dusting of electrolytes that have been advertised as an "intra workout" for more than a decade. Sure, that might be great for the soccer mom, keyboard warrior, or desk jockey that considers going for a walk around the block "working out. But, it doesn't do a whole hell of a lot for real athletes that are serious about maximizing every ounce of human potential.
So, we applied the Apollon Mindset to crafting a real intra workout supplement that can take your performance and gains OVER THE TOP!


INTRODUCING THE REAL ATHLETE'S INTRA -- OVER THE TOP™
OVER THE TOP is the ultimate training fuel for serious athletes looking to wreck the weights, smash PRs, crush the competition, and still have the gumption to go toe-to-to with Lincoln Hawk.
We've brought together an advanced blend of essential amino acids, premium carbohydrates, and research-backed ergogenics to help you train harder, last longer, recover faster, and take your performance over the top!

CARBOHYDRATES ONE-TWO PUNCH
There's been a growing fear of carbohydrates in the fitness community in recent years, and that makes absolutely ZERO sense. For intense training, carbohydrates fuel performance. This has been shown time and again in research as well as in the field of competition. Traditional intra-workout carbohydrate sources often leave athletes feeling sluggish, heavy, bloated and/or running to the bathroom between sets.
OVER THE TOP uses a duo of premium-grade carbohydrates that are rapid-digesting, but easy on the stomach, providing your body with high-octane fuel to power through even the most daunting training sessions.
Each massive serving of OVER THE TOP supplies:
30 grams of Cluster Dextrin
10 grams of D-Ribose
Cluster Dextrin offers a high molecular weight and ultra-low osmolality, enabling it to rapidly move through the GI tract (without causing GI distress), and be quickly transported to muscle cells. Cluster Dextrin is rapid-digesting, but also low glycemic, which means it won't spike blood sugar levels, meaning there won't be any "carb comas" that are so commonly associated with other carb powders.
D-Ribose is a unique carbohydrate that enhances endogenous energy production. Ribose is the backbone of ATP, and it's found in every cell of the body. As you know, your ability to maintain a high level of performance is directly tied to regenerate ATP. By supplying a key building block that your body needs to produce ATP, D-Ribose supports greater performance and between-set recovery. It's also been noted to support cardiovascular health.

ESSENTIAL AMINO ACIDS
Amino acids serve as the building blocks the body uses to repair damaged muscle tissue as well as synthesize new muscle. But, that's not all. Amino acids are also involved in the production of hormones (such as insulin) and neurotransmitters.
The body, however, cannot create all of the amino acids it needs to carry out these processes. There are NINE amino acids the body cannot synthesize (the essential amino acids), which means they must be obtained through food or supplements.
OVER THE TOP provides 14,000mg of essential amino acids (EAAs) per serving, including 10,000mg of BCAAs (2x more than those piss-poor BCAA supplements that litter the market).
Additionally, studies indicate that taking a combination of EAAs and carbohydrates peri-workout lead to greater net muscle protein synthesis when they are consumed post-workout.

STRENGTH & PERFORMANCE
CREATINE MONOHYDRATE (5,000MG)
Creatine is the king of sports nutrition, and we could hardly claim to create the best intra workout supplement on the market and not put in the granddaddy of all muscle building supplements.
Creatine enhances ATP production and hydration, and it's been found in research to:
Support lean mass gains
Enhance muscle strength
Improve high-intensity exercise performance
Aid cognitive function

BETAINE ANHYDROUS (2,500MG)
Betaine is an organic compound found in various foods that serves as a methyl donor, which helps convert homocysteine to methionine -- an essential amino acid that supports endogenous creatine production.
Human studies have found that betaine supplementation may:
Increase total repetitions performed during resistance training
Boost endurance & strength
Enhance peak power and maximum power output
Support body recomposition and lean mass gains

PEAKO2® (2,000MG)
PeakO2 is a patented blend of six ayurvedic mushrooms that have been shown to improve performance during intense exercise.
Specifically, PeakO2 has been found to improve oxygen utilization in the body while decreasing lactate build-up in muscles, leading to greater power, strength, and endurance.

ELEVATP® (300MG)
elevATP is a premium blend of trace minerals and polyphenols derived from ancient peat and apple extracts that has been shown to increase intracellular ATP levels. Specifically, supplementation with elevATP® was noted to increase ATP by 45%, on average.
Studies in healthy, resistance-trained athletes have also demonstrated that elevATP supplementation may improve strength, power, endurance and performance.

SENACTIV® (100MG)
Senactiv is a proprietary combination of panax notoginseng and rosa roxburghii noted to boost ATP by increasing the activity of citrate synthase by 47%! Why is this important?
Citrate synthase is the enzyme responsible for producing more ATP.
Senactiv also supports muscle preservation and regeneration by removing old cells and reducing inflammation.

ELECTROLYTES & HYDRATION
The final component of OVER THE TOP is also one of the most overlooked aspects of sports nutrition -- hydration.
OVER THE TOP features 2,000mg of Taurine and precise doses of key electrolytes (including sodium, potassium, magnesium, phosphorous, and calcium) to enhance cell volumization, muscle fullness, and hydration to boost performance, improve fatigue resistance, support blood flow, and ward off cramping.
TAKE YOUR TRAINING & RESULTS OVER THE TOP
OVER THE TOP is the premier peri-workout supplement on the market, bar none. It contains the crucial nutrients your mind and body need to perform, recover, and grow.

WHEN SHOULD I USE OVER THE TOP?
OVER THE TOP may not be something you need to use every workout. And, that's perfectly fine. It is best saved for those training sessions when you're pushing to the extreme -- LEG DAY, 2-a-days during training camp, endurance competitions, etc.
What about moderately-intense training sessions?
For less-demanding training sessions, such as a shoulder & arms workout, you can simply use a ½ serving of OVER THE TOP, and save the full serving for the really taxing training sessions -- legs, Chest & Back, etc.
It is NOT needed for a casual arm day or light cardio session.

WHAT CAN I EXPECT WITH OVER THE TOP?
Greater performance
Enhanced recovery
Better results!