GO BEYOND HAIR, SKIN, & NAILS
A little bit of Vanity never hurt anyone...
Glaxon's Vanity is a new cosmeceutical product designed to fully support vibrant hair, healthy nails, and radiant skin.* Featuring an extract from peas, AnaGain™ and Silica from Horsetail, we're supporting stronger hair growth.* Then with the addition of AstaReal® Astaxanthin and a unique Red Orange Complex™ helps protect skin from within against UV radiation.* Other welcome additions like Biotin, Hyaluronic Acid, and Vitamin E isomers in the form of DeltaGold® Tocotrienols to also support skin and nail health.* Get ready to look in the mirror for the most awesome glow-up you've ever seen with Glaxon's Vanity.
Vanity Key Ingredients:
DIM (Diindolylmethane):
This compound that comes from leafy green vegetables has been shown to decrease activity of estrogens through interacting with the estrogen receptor. Additionally, DIM can also inhibit the growth of some of the bacterial species associated with facial acne.
Lipidox:
A combination of phospholipids and cholic acids that facilitate the absorption of several nutritional ingredients through the body's "second circulatory system" the lymph.
Horsetail (Standardized for Silica):
Silica is one of the few components that act as a mineral that supports hair strength.
Biotin (as D-Biotin):
A water-soluble vitamin that's a part of the vitamin B family. Your body needs biotin to help convert certain nutrients into energy. It also plays an important role in the health of your hair, skin, and nails.
AnaGain™ Nu:
This clinically studied Pea Shoot extract has been shown to reduce hair loss that is usually seen in the shower. Studies have shown a 50% reduction in overall hair loss.
Red Orange Complex™ :
This patented extract has many beneficial effects on overall skin health. Most notably, Red Orange Complex supports the skin's natural barrier function and is capable of helping prevent skin cell damage from UV radiation.
DeltaGold® ẟ/γ-Tocotrienols:
These are special forms of the famous skin vitamin, Vitamin E. In their unsaturated, tocotrienol form, DeltaGold® is a potent antioxidant that can help combat age-related stress.
AstaReal®:
This carotenoid comes from Red Algae. Astaxanthin is a fat-soluble antioxidant compound that can help fight free radicals, and also provide some protection against against UV radiation.
Hyaluronic Acid:
A super-hydrating compound, Hyaluronic acid is a major component of extracellular matrix - the location where the skin holds most of its water.
Vanity FAQ:
WHY WOULD I TAKE VANITY?
If you're looking to fortify your daily personal care routine with supplementation that also supports overall hair, skin, and nail health - Vanity is the perfect companion product. Vanity has ingredients that boost hair strength and reduce hair loss, components to both protect and nourish healthy skin, and all of this is done with some of the finest antioxidant compounds available to keep you looking youthful and radiant.
HOW DOES VANITY WORK?
By feeding the nutrients biotin and silica, we're promoting hair quality and hair strength. This is combined with an extract from peas that's can reduce hair loss as well. Then by combining the UV protective powers of astaxanthin and Red Orange Complex, with the assistance of tocotrienols we are able to protect skin from solar insults from the external environment. Hyaluronic acid is also included to promote skin moisture and elasticity.
HOW MUCH VANITY SHOULD I TAKE?
Vanity is designed to be taken as 2 capsules daily. These capsules can be taken together in the morning, or before bed. The two capsules can also be taken in a split dose both morning and night along with your personal skincare routine. Consistency is key, so make sure to time your dosing at the same time each day.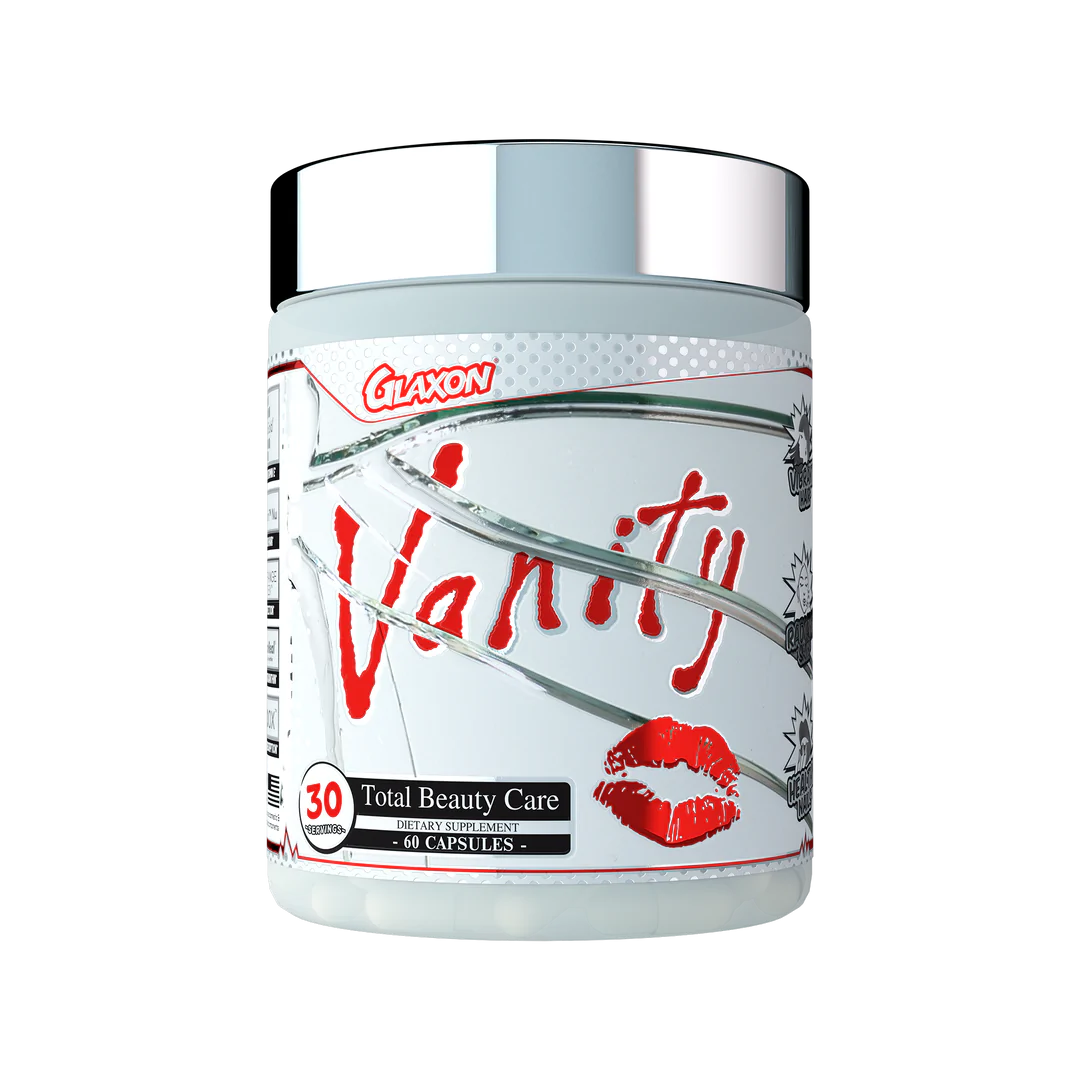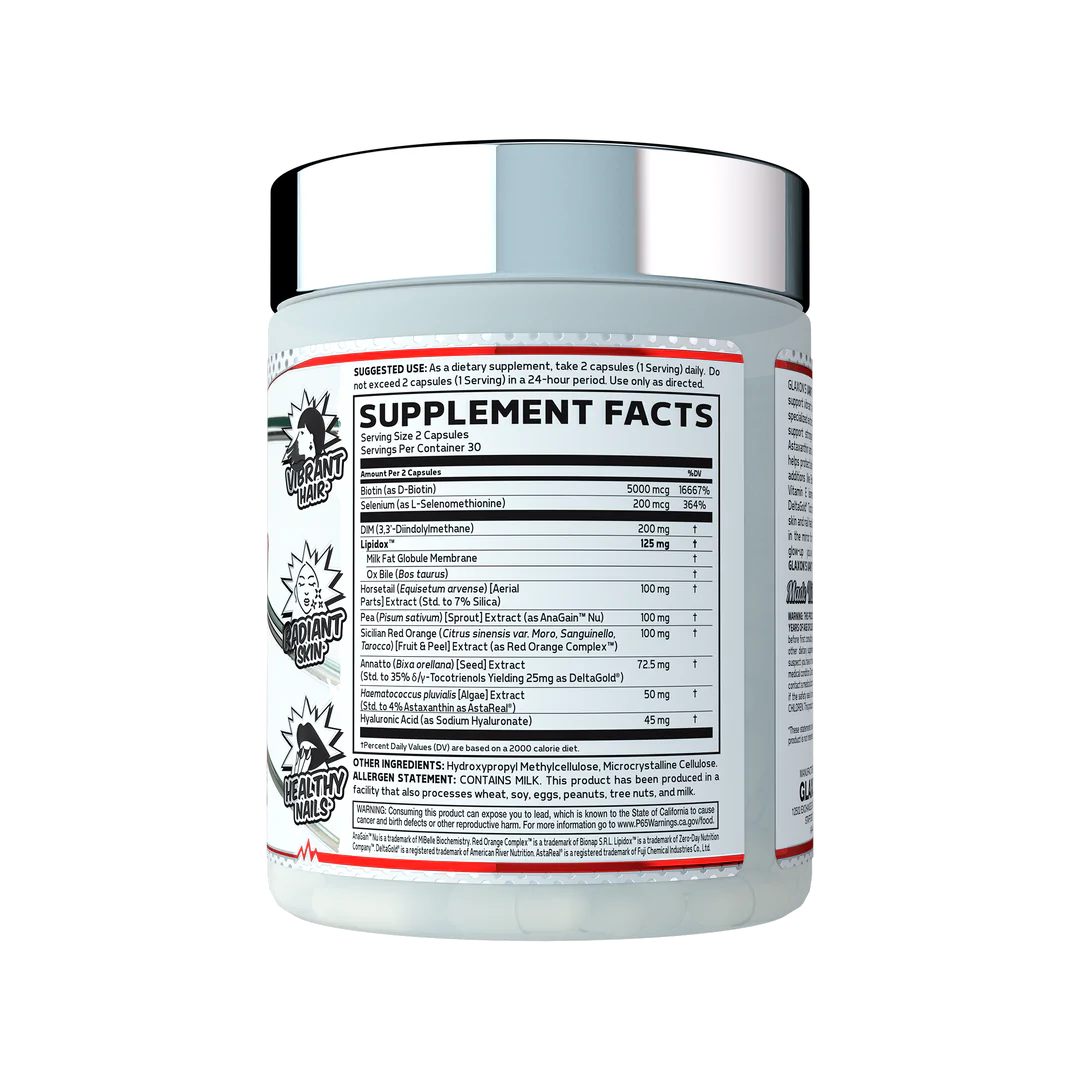 Product Details
Brand: Glaxon
Goal: Improve Health & Well Being
Main Ingredient: DIM (3,3'-Diindolylmethane) - 200mg
Form: Capsules
Servings Per Container: 30
Serving Size: 2 Capsules